SERIES™
Refined Relevant Relaxed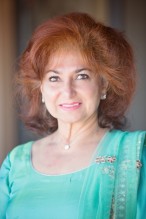 Neelam Sethi – Encore Presentation!
We are so grateful and looking forward to having Neelam Sethi back for an encore presentation!
Neelam is a Professional Philanthropist. Born in Allahabad, India and moved to the US in 1971 after marrying her husband. She has been in Tucson since 1988. Her passion is helping revitalize the downtown arts scene, with a special emphasis in making creative, artistic expression and performance accessible to children and families.
Neelam has brought signature programs such as Bollywood at the Fox and FAME (Family Arts and Music Experience) to Tucson. She is also involved in several other philanthropic endeavors.
Neelam will talk about the culture she was raised in and bring India to the Women's Salon Series.