SERIES™
Refined Relevant Relaxed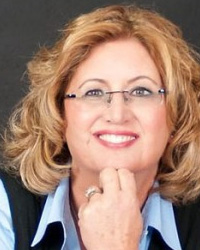 Lisa Hopper
How many of us are brave enough to dramatically change the course of our lives because of an actual, go to sleep at night, dream? A dream so strong and captivating that following it takes you to a place you never before imagined. Would you have the strength and commitment to follow through?
Lisa Hopper did. As the founder and CEO of World Care Civilian Emergency Relief Center, author, international consultant and lecturer, adjunct instructor at the University of Arizona Honors College in International Studies and Social Entrepreneurship, and an alumni Honorary Commander for the 355 Aerospace Medical Squadron at Davis-Monthan Air Force Base, Lisa has led a fascinating and storied life guided by an extraordinary vision.
Born in Chicago, Illinois in 1961, Lisa has taken a few different journeys. She enlisted in the Women's Army Corp at age 18, earned a Bachelor of Science degree in Physics and Radiology from George Washington University at 32 years-old, and then became the Department of Radiology Technical Manager for George Washington University Hospital. In 1994, Lisa took a position at University Medical Center in Tucson and at the same time fostered a small, nonprofit organization called World Care.
In 1997, she took a leap of faith, left the medical industry, put all of her retirement savings into World Care, and devoted herself to developing the organization. Since its inception, World Care has grown into one of the largest emergency relief organizations in the country, responding to disasters in Southern Arizona and around the world. Applying her intuitive ability to repurpose waste for the greater good, Lisa also created a self-sustaining program called, Recycling Revolution. This program recycles surplus materials and supplies to create usable resources for health, education, and sustainable communities worldwide. She has been recognized internationally for her accomplishments.
While Lisa's transformation into globetrotting, humanitarian aid relief visionary has been remarkable, what many people do not realize is that it was born from a reoccurring dream. "I am dressed in shorts and a t-shirt, standing in front of an airplane in the desert where the haze is just burning off in the morning sun. The airplane has "World Care" written on its side. I'm holding a clipboard and checking what seems to be a large load of shipping boxes spread before me on the sandy airstrip." Imagine. Coming from a world of science and logic and learning to entrust the course of your life to a dream.
After enduring and overcoming uncertainty and overwhelming obstacles, Lisa brings a message of hope and inspiration while providing clues and tools to help each of us trust the messages of our subconscious with her "Dare to Dream" series.