SERIES™
Refined Relevant Relaxed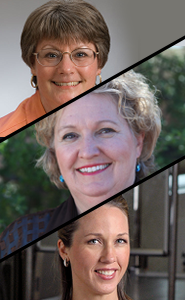 Christine Hunt, Ann Pardo and Kyria Sabin
Christine Hunt grew up on the east coast near Annapolis, Maryland.   Her love of plants led her to the University of Maryland to pursue a degree in horticulture and landscape design.  Little did she know, at the time,  how much plants would become an integral part of healing her body and her current occupation.  She discovered their role in healing when she was diagnosed with an autoimmune disease and switched to a plant based diet.
Her constant thirst for knowledge on all aspects of healing and a life-long spiritual quest led her down the path of alternative therapies and the desire to help others heal.  Understanding  the connection of both the mind and the body in healing she discovered and fell in love with an energy psychology modality called Emotional Freedom Technique or EFT and became a certified practitioner.
The plant-based diet healed her body to a point but she knew she had to heal her emotional body to achieve total wellness.  EFT helped her do this by releasing the negative emotions accumulated throughout her life.
She is now a wellness coach and helps people lose weight and relieve symptoms of chronic disease through dietary and lifestyle changes, overcoming obstacles and releasing limiting beliefs; enabling them to be happier, healthier and regain control of their lives.
Ann Pardo's zest, warmth, genius for communication and more than 20 years' experience in counseling and management make her an exceptionally engaging speaker on subjects ranging from grief to friendship and from women's spirituality to writing as therapy. Wise, funny and curious, Ann radiates both immense sympathy and professional understanding. She creates a sense of community in any room.
Ann has a master's degree in counseling from Northeastern Illinois University in Chicago, a bachelor's degree in dance therapy from Columbia College of Chicago and a bachelor's degree in Italian literature from the University of Massachusetts. She is an American Counseling Association approved Clinical Supervisor and certified in gerontology by the same organization.
Ann's specialty areas include aging, depression, caretaking, spirituality, grief and loss, grief and creativity, dance therapy, body image, addiction, stress management and relationships. A sought-after presenter, Ann is honored with having been invited to serve as a keynote or featured speaker at various conferences, including California Governor's Conference for Women, Women in Technology, American Counseling Association and Planned Parenthood Association of Chicago.
In addition to being an experienced meditator, negotiator and problem-solver, Ann enjoys Flamenco dance, studying art, and speaking and engaging others in public.
Kyria Sabin is dedicated to establishing and maintaining professional standards across the board for the Pilates industry. The following achievements position Kyria as an ideal candidate to serve on the Certification Commission:
• She has over 14 years experience in developing vocational curriculum for a comprehensive Pilates teacher training program which became the Fletcher Program of Study and is now Fletcher Pilates® International. Fletcher Pilates® continues to offer a comprehensive curriculum and a wide variety of continuing education courses and workshops.
• Kyria has over 20 years of Pilates teaching experience.
• She has the knowledge and experience of state licensure as the Fletcher Program of Study has been state licensed for the past 8 years.
• Kyria has initiated the accreditation process for the Fletcher Pilates®  Comprehensive Program which will become the first accredited Pilates teacher training school.
• She is proud to announce that the Fletcher Pilates® faculty members are 100% PMA certified.
A graduate of Duke University, a PMA Certified Pilates Teacher and a Licensed Massage Therapist, Kyria was instrumental in introducing and developing the Pilates Program offered at the University of Arizona School of Dance where she continues to serve as Adjunct Faculty.  She also teaches the Pilates Youth Program at Amphi Middle School in Tucson. She is a frequent guest presenter at industry conferences both domestically and internationally and has served on boards for the Pilates Method Alliance, the UA School of Dance, the Haven Center for Women and the Foundation for Expanding Horizons.
Given all of the above, Kyria's experience and expertise make her a natural choice for the Certification Commission.