SERIES™
Refined Relevant Relaxed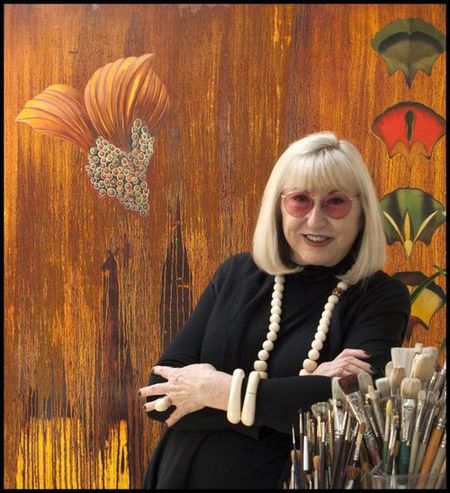 Barbara Rogers
Barbara Rogers was born and raised in northeastern Ohio. She holds a BSc. degree from Ohio State University in Art Education and did her graduate work at the San Francisco Art Institute and UC Berkeley. She became a Full Professor with tenure at the University of Arizona in 1990. Her retrospective was held in 2013 at the Tucson Museum of Art. In that same year a monograph on her work "The Imperative of beauty" was published. Recently she was awarded a Lifetime Achievement Award by the University of Arizona Museum of Art. Barbara is represented by art galleries in Scottsdale, Kansas City, Culver City, Coral Gables and Omaha.
Rogers has exhibited widely, both nationally and internationally, including over 42 solo exhibitions at major galleries and museums in San Francisco, Seattle, New York, Chicago, Pittsburgh, Scottsdale, Germany, South Korea and the United Arab Emirates. Her work is in at least 19 major public and private collections including The San Francisco Museum of Modern Art, The Crocker Museum, The Scottsdale Museum of Contemporary Art, The Tucson Museum of Art, Arizona State University Museum of Art, The Oakland Museum of Art, and The San Jose Museum of Art.
"If I had to characterize in just a few words Barbara's work ethic as an artist, I would say, first, that she is a master craftsman. Nothing leaves the studio until she has thought through what the work is about and the execution is flawless. Secondly, Barbara loves a challenge. Working with new materials, for unusual spaces, working to a budget, meeting deadlines— she not only can be counted on to do an outstanding job on all these counts, but she revels in very aspect."
– Marilyn A Zeitlin former director of Arizona State University Art Museum
"What remains consistent in Rogers' work is the garden and her love of and respect for nature. From her earliest airbrushed paintings depicting nature as a pleasurable paradise—to her acrylics delineating nature as sublime destroyer to her oil paintings expressing nature as a submissive participant in the formal garden—to her mature works depicting nature as having won the battle. Rogers continues to revel in the awesome beauty and power of the elements and humankind's relationship with the life forms that exist within them."
– Julie Sasse, Chief curator, Curator of Modern and Contemporary Art, and Curator of Latin American Art at the Tucson Museum of Art
Rogers has been a faculty member or visiting artist at many major universities in the US and internationally. In 2007, after numerous mentoring and teaching awards, Rogers retired and is now Professor Emeritus of Painting and Drawing in The School of Art at The University of Arizona in Tucson, AZ.