SERIES™
Refined Relevant Relaxed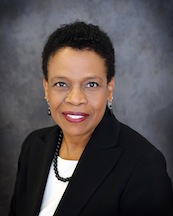 Daisy Jenkins
Daisy M. Jenkins, Esq., is President of Daisy Jenkins & Associates, LLC, specializing in executive and developmental coaching and Human Resources consulting. Jenkins is a Leadership Advisor with the THEO Executive Group headquartered in Irving, TX, advising C-suite executives in major healthcare systems. Jenkins previously served as executive vice president and Chief Administrative Officer for Carondelet Health Network and held multiple Human Resources executive positions during her 28-year career with Raytheon Company.
Jenkins has written several articles as a Public Voices Fellow published by The Huffington Post, The Root, and Ebony.com and authored two books, "Within The Walls, A Journey Through Sexism and Racism in Corporate America," basis for the recently released film production, "Title VII" and "The Green Machine," a novel about black male incarceration." She has received numerous awards: "The 2015 Sí Se Puéde Legacy Award" from the Arizona César Chavez Holiday Coalition, "Women Who Lead" from the University of Arizona (UA) Gender & Women's Studies, the "Phenomenal Woman of the Year" from the UA Black Alumni Association; "2007 Tucson Woman of the Year" from the Tucson Chamber of Commerce, "Distinguished Alumnus" from the UA James E. Rogers College of Law, and recognized in Ebony Magazine as one of the "African American Women at the Top in Corporate America."
Community service includes the Past Chair of the Board of Directors for the United Way of Tucson and Southern Arizona, Member of the Tucson Airport Authority, University of Arizona (UA) National Leadership Council, UA James E. Rogers College of Law Board of Visitors, and Chair Emeritus, UA President's African American Community Council. Jenkins is a dedicated education advocate for African American student achievement. She also mentors diverse professionals across the country.
Jenkins holds bachelor's and master's degrees in Communication from the University of Hawaii and a Juris Doctor degree from the University of Arizona, James E. Rogers College of Law. She is a member of the State Bar of Arizona. She has completed executive graduate studies in business management through The University of Arizona's Karl Eller Graduate School of Management, Arizona Executive Program; Certification: Business Leadership Program, University of Chicago, Business School.
Jenkins has been married to Fred C. Jenkins, Jr. for 51 years and has two sons and eight wonderful grandchildren. She is an active member of Rising Star Missionary Baptist Church.